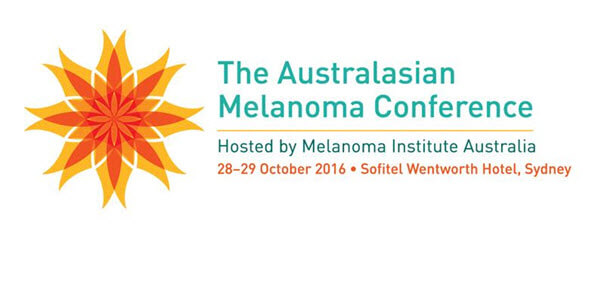 SAVE THE DATE
On behalf of the Organising Committee, we are pleased to invite you to attend The Australasian Melanoma Conference 2016, hosted by Melanoma Institute Australia.
Registrations and abstract submissions open in March 2016 for this two day meeting on Friday 28 and Saturday 29 October 2016.
Visit www.melanoma2016.com.au to register your interest.
The Australasian Melanoma Conference Program has been designed for researchers, primary care and specialist clinicians, nurses and allied health workers interested in any aspect of melanoma treatment, patient care or research.
Keynote Speakers
We are excited to announce two of the keynote speakers for the 2016 Conference.
Dr Vernon K. Sondak, MD
Chair, Department of Cutaneous Oncology, Director of Surgical Education at Moffitt Cancer Center, Tampa, Florida
and
Professor of Surgery
University of South Florida, Morsani College of Medicine, Tampa, Florida
Dr Jennifer Wargo, MD, MMSc
Associate Professor, Department of Surgical Oncology and Department of Genomic Medicine,
The University of Texas MD Anderson Cancer Center, Houston, Texas
More information about the program and keynote speakers will be announced soon.
Venue
The Conference will be held at Sofitel Wentworth Sydney Hotel, located in the heart of the Sydney CBD. Key transport links, shopping and dining options and stunning Sydney landmarks are only a short stroll away.
Sponsorship and Exhibitor Opportunities
We invite your organisation to participate as a valued sponsor or exhibitor. Along with the variety of different sponsorship and advertising options available, the industry exhibition provides an excellent platform to network with an audience of more than 300 melanoma clinicians and researchers and allied health professionals.
For more information contact our
Sponsorship and Exhibitions Account
Manager on +61 2 9265 0700 or email sponsorship@arinex.com.au.
Melanoma 2016 Conference Managers
Arinex Pty Ltd
Level 10, 51 Druitt Street
Sydney, NSW, Australia
Tel: +61 2 9265 0700
Fax: +61 2 9267 5443
Email: melanoma2016@arinex.com.au