Science Advances
The abundance of metabolites related to protein methylation correlates with the metastatic capacity of human melanoma xenografts
Xiaolei Shi1, Alpaslan Tasdogan1, Fang Huang1, Zeping Hu1,*, Sean J. Morrison1,2 and Ralph J. DeBerardinis
Science Advances  01 Nov 2017:
Vol. 3, no. 11, eaao5268
DOI: 10.1126/sciadv.aao5268
---
Retrospective study of advanced melanoma patients treated with ipilimumab after nivolumab: Analysis of 60 Japanese patients
Journal of Dermatological Science | November 01, 2017
---
Australasian Journal of Dermatology
Dermoscopic 'Chaos and Clues' in the diagnosis of melanoma in situ
Rajan Ramji, Guillermo Valdes-Gonzalez, Amanda Oakley, Marius Rademaker
First published: 2 November 2017
DOI: 10.1111/ajd.12740
---
International Journal of Cancer
Generational shift in melanoma incidence and mortality in Queensland, Australia, 1995-2014
Joanne F. Aitken, Danny R. Youlden, Peter D. Baade, H. Peter Soyer, Adèle C. Green, B. Mark Smithers
Accepted manuscript online: 6 November 2017
DOI: 10.1002/ijc.31141
---
Int. J. Mol. Sci. 2017, 18(11), 2354; doi:10.3390/ijms18112354
miRNAs, Melanoma and Microenvironment: An Intricate Network
Gabriele Romano and Lawrence N. Kwong
Department of Translational Molecular Pathology, The University of Texas MD Anderson Cancer Center, Houston, TX 77030, USA
Received: 29 September 2017 / Revised: 2 November 2017 / Accepted: 5 November 2017 / Published: 7 November 2017
---
BioRxiv
Transcriptional Changes of DNA Replication and Repair Factors Over Uveal Melanoma Subtypes
Melanie H. Kucherlapati
doi: https://doi.org/10.1101/214932
---
Adverse Reactions to Biologics
Editor(s): Puig L. (Barcelona)
Gulliver W. (St. John's)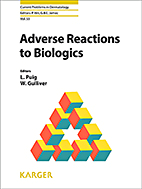 Adverse Reactions to Biologics: Melanoma (Ipilimumab, Nivolumab, Pembrolizumab)
Hwang S.J.E.a, b · Fernández-Peñas P.a, b

Puig L, Gulliver W (eds): Adverse Reactions to Biologics. Curr Probl Dermatol. Basel, Karger, 2018, vol 53, pp 82-92
https://doi.org/10.1159/000478081
---
The Open Dermatology Journal
ISSN: 1874-3722 – Volume 11, 2017
CASE REPORT
Two-phase Surgery Using a Dermal Regeneration Material for Nail Unit Melanoma: Three Case Reports
Shiro Iino1, *, Suguru Sato1, Natsuki Baba1, Naoki Maruta1, Wataru Takashima1, Noritaka Oyama1, Takahiro Kiyohara2, Masato Yasuda3, Minoru Hasegawa1
---
Dove Press
FGF2 promotes metastasis of uveal melanoma cells via store-operated calcium entry
Authors Wang Y, Bao X, Zhang Z, Sun Y, Zhou X
Received 10 March 2017
Accepted for publication 1 October 2017
Published 8 November 2017 Volume 2017:10 Pages 5317—5328
DOI https://doi.org/10.2147/OTT.S136677
---
Clinicopathological predictors of recurrence in nodular and superficial spreading cutaneous melanoma: a multivariate analysis of 214 cases
Maria A. Pizzichetta, Daniela Massi, Mario Mandalà, Paola Queirolo, Ignazio Stanganelli, Vincenzo De Giorgi, Giovanni Ghigliotti, Stefano Cavicchini, Pietro Quaglino, Maria T. Corradin,  Pietro Rubegni, Mauro Alaibac, Stefano Astorino, Fabrizio Ayala, Serena Magi, Laura Mazzoni, Maria Ausilia Manganoni, Renato Talamini, Diego Serraino, Giuseppe Palmieri and on behalf of the Italian Melanoma Intergroup (IMI)
Journal of Translational Medicine 201715:227
https://doi.org/10.1186/s12967-017-1332-3
Received: 24 July 2017
Accepted: 27 October 2017
Published: 7 November 2017
---
Clinical Cancer Research
Primary and Acquired Resistance to Immune Checkpoint Inhibitors in Metastatic Melanoma
Tuba N. Gide, James S Wilmott, Richard A. Scolyer and Georgina V. Long
DOI: 10.1158/1078-0432.CCR-17-2267
---
Cell Reports
Genetic and Genomic Characterization of 462 Melanoma Patient-Derived Xenografts, Tumor Biopsies, and Cell Lines
Bradley Garman,1,16 Ioannis N. Anastopoulos,1,16 Clemens Krepler,2 Patricia Brafford,2 Katrin Sproesser,2 Yuchao Jiang,3 Bradley Wubbenhorst,1 Ravi Amaravadi,4,5 Joseph Bennett,6 Marilda Beqiri,2 David Elder,5,8 Keith T. Flaherty,9 Dennie T. Frederick,9 Tara C. Gangadhar,4,5 Michael Guarino,6 David Hoon,10 Giorgos Karakousis,11 Qin Liu,2 Nandita Mitra,12 Nicholas J. Petrelli,6 Lynn Schuchter,4,5 Batool Shannan,2 Carol L. Shields,13 Jennifer Wargo,14 Brandon Wenz,1 Melissa A. Wilson,15 Min Xiao,2 Wei Xu,5 Xaiowei Xu,5,8 Xiangfan Yin,2 Nancy R. Zhang,3 Michael A. Davies,7 Meenhard Herlyn,2 and Katherine L. Nathanson
Cell Reports 21, 1936–1952 November 14, 2017. https://doi.org/10.1016/j.celrep.2017.10.052
---
Clinical Cancer Research
Prospective Validation of Molecular Prognostic Markers in Cutaneous Melanoma: A Correlative Analysis of E1690
Mohammed Kashani-Sabet, Mehdi Nosrati, James R. Miller III, Richard W. Sagebiel, Stanley P.L. Leong, Andrew Lesniak, Schuyler Tong, Sandra J. Lee and John M. Kirkwood
DOI: 10.1158/1078-0432.CCR-17-1317 Published November 2017
---
Spandidos Publications – Oncology Letters
Oridonin inhibits migration, invasion, adhesion and TGF-1-induced epithelial-mesenchymal transition of melanoma cells by inhibiting the activity of PI3K/Akt/GSK-3 signaling pathway
Chun-Yu Li, Qi Wang, Shen Shen, Xiao-Lu Wei, Guo-Xia Li
Published online on: November 15, 2017     https://doi.org/10.3892/ol.2017.7421
---
Future perspectives in melanoma research "Melanoma Bridge", Napoli, November 30th–3rd December 2016
Paolo A. Ascierto, Sanjiv S. Agarwala, Gennaro Ciliberto, Sandra Demaria, Reinhard Dummer, Connie P. M. Duong, Soldano Ferrone, Silvia C. Formenti, Claus Garbe, Ruth Halaban, Samir Khleif, Jason J. Luke, Lluis M. Mir, Willem W. Overwijk, Michael Postow, Igor Puzanov, Paul Sondel, Janis M. Taube, Per Thor Straten, David F. Stroncek, Jennifer A. Wargo, Hassane Zarour and Magdalena Thurin
Journal of Translational Medicine201715:236
https://doi.org/10.1186/s12967-017-1341-2
Received: 1 October 2017
Accepted: 7 November 2017
Published: 16 November 2017
---
JAMA Oncology
Association of First-in-Class Immune Checkpoint Inhibition and Targeted Therapy With Survival in Patients With Stage IV Melanoma
Andrew J. Sinnamon, MD1; Madalyn G. Neuwirth, MD1; Phyllis A. Gimotty, PhD2; et alTara C. Gangadhar, MD3; Ravi K. Amaravadi, MD3; Lynn M. Schuchter, MD3; Giorgos C. Karakousis, MD1
Author Affiliations
JAMA Oncol. Published online November 16, 2017.
doi:10.1001/jamaoncol.2017.3462
---
Histopathology
New insights into naevoid melanomas: a clinicopathological reassessment.
Cook, Martin G, Massi, Daniela, Blokx, Willeke A M, Van den Oord, Joost, Koljenovic, Senada, De Giorgi, Vincenzo, Kissin, Eleanor, Grant, Megan, Mandal, Amit, Gremel, Gabriela, Gaudy, Caroline, Viros, Amaya, Dhomen, Nathalie, Khosrotehrani, Kiarash, Marais, Richard, Green, Adele C and Mihm, Martin C (2017) New insights into naevoid melanomas: a clinicopathological reassessment.. Histopathology, . doi:10.1111/his.13317
---
High plasma 25-hydroxyvitamin D and high risk of non-melanoma skin cancer: a Mendelian randomisation study of 97849 individuals
U. C. Winsløw, B. G. Nordestgaard, S. Afzal
Accepted manuscript online: 16 November 2017
DOI: 10.1111/bjd.16127
---
Cancer Research
Interferon-2; signaling in melanocytes and melanoma cells regulates expression of CTLA-4
Xuan Mo, Hanghang Zhang, Sarah Preston, Kayla Martin, Bo Zhou, Nish Vadalia, Ana M Gamero, Jonathan Soboloff, Italo Tempera and M. Raza Zaidi
DOI: 10.1158/0008-5472.CAN-17-1615
---
Medical Sciences – Cancer and Cancer-Related Research
Melanoma: Genetic Abnormalities, Tumor Progression, Clonal Evolution and Tumor Initiating Cells
Ugo Testa, Germana Castelli and Elvira Pelosi
Received: 16 September 2017 / Revised: 31 October 2017 / Accepted: 8 November 2017 / Published: 20 November 2017
Med. Sci. 2017, 5(4), 28; doi:10.3390/medsci5040028
---
Oncology Letters
MicroRNA-150 inhibitors enhance cell apoptosis of melanoma by targeting PDCD4
Jianji Wan, Jie Yang, Yueshen Huang, Liehua Deng
Published online on: November 20, 2017     https://doi.org/10.3892/ol.2017.7445
---
Retrospective multicenter study on results of gamma knife surgery for uveal melanoma in Europe
Author: Mikhail Chernov, Fery Stoica, Gabriela Murgoi, Rodica Stempurszki, Daniela Greto, Selcuk Peker, Meltem Yilmaz, Andrey Golanov, Valery Kostjuchenko, Olesya Golubeva, Roman Liscak, Gabriela Simonova, Ladislav Novacek, Pavel Ivanov, Irina Zubatkina, Oleg Sinyavskiy, Matthias Radatz, Thomas Mindermann
Journal: JOURNAL OF RADIOSURGERY AND SBRT 2017
---
Recruiting former melanoma patients via hospitals in comparison to office-based dermatologists in a register-based cohort study that required indirect contact
R. Zeissig, V. Weyer-Elberich, K. Emrich, H. Binder, S. Fischbeck, B. H. Imruck, P. Friedrich-Mai, M. E. Beuteland M. Blettner
BMC Medical Research Methodology BMC series – open, inclusive and trusted201717:150
https://doi.org/10.1186/s12874-017-0425-2
Received: 19 May 2017
Accepted: 14 November 2017
Published: 22 November 2017
---
Animal Cells and Systems
B16 melanoma expressing EGFP as a self antigen is differentially immunoedited by tolerogenic thymic epithelial and dendritic cells
Su Gang Kim,Ki Yeon Kim,Seokmann Hong &Moon Gyo Kim
Pages 388-396 | Received 08 Sep 2017, Accepted 08 Nov 2017, Published online: 24 Nov 2017
https://doi.org/10.1080/19768354.2017.1406870
---
Dermatoscopy of a melanoma less than one millimeter in diameter
Akay, Bengu N., Heper, Aylin Okcu, Clark, Simon, Erdem, Cengizhan, Rosendahl, Cliff O. and Kittler, Harald (2017) International Journal of Dermatology, 56 12: 1498-1499. doi:10.1111/ijd.13728
---
Barbara Fontanals-Cirera, Dan Hasson, Chiara Vardabasso, Raffaella Di Micco, Praveen Agrawal, Asif Chowdhury, Madeleine Gantz, Ana de Pablos-Aragoneses, Ari Morgenstern, Pamela Wu, Dan Filipescu, David Valle-Garcia, Farbod Darvishian, Jae-Seok Roe, Michael A. Davies, Christopher R. Vakoc, Eva Hernando, Emily Bernstein.
Harnessing BET Inhibitor Sensitivity Reveals AMIGO2 as a Melanoma Survival Gene.
Molecular Cell, 2017; 68 (4): 731 DOI: 10.1016/j.molcel.2017.11.004
---
PET and SPECT imaging of melanoma: the state of the art
Weijun Wei, Emily B. Ehlerding, Xiaoli Lan, Quanyong Luo, Weibo Cai
Eur J Nucl Med Mol Imaging (2018) 45: 132. https://doi.org/10.1007/s00259-017-3839-5
Review Article  First Online: 30 October 2017
---
Cancer Research
Vitamin C sensitizes melanoma to BET inhibitors
Gaofeng Wang, Sushmita Mustafi, Vladimir Camarena, Claude-Henry Volmar, Tyler C Huff, David W Sant, Shaun P. Brothers, Zhao-Jun Liu and Claes Wahlestedt
DOI: 10.1158/0008-5472.CAN-17-2040
---
Cancer Research
New mechanisms of resistance to MEK inhibitors in melanoma revealed by intravital imaging
Hailey E Brighton, Steven P Angus, Tao Bo, Jose Roques, Alicia C Tagliatela, David Darr, Kubra Karagoz, Noah Sciaky, Michael Gatza, Norman E. Sharpless, Gary L. Johnson and James E. Bear
DOI: 10.1158/0008-5472.CAN-17-1653
---
Ex vivo distribution of gold nanoparticles in choroidal melanoma
Authors Kanavi MR, Asadi S, Ahmadieh H
Received 14 March 2017
Accepted for publication 14 October 2017
Published 30 November 2017 Volume 2017:12 Pages 8527—8529
DOI https://doi.org/10.2147/IJN.S136939
---
Vascular abnormalities and development of hypoxia in microscopic melanoma xenografts
Jon-Vidar Gaustad, Trude G. Simonsen, Lise Mari K. Andersen and Einar K. Rofstad
Journal of Translational Medicine201715:241
https://doi.org/10.1186/s12967-017-1347-9
Received: 11 August 2017
Accepted: 21 November 2017
Published: 28 November 2017