Source: Seeking Alpha, January 2014
Lion Biotechnologies, Inc. is an emerging biotechnology company focused on developing and commercializing adoptive cell therapy (ACT) using autologous tumor infiltrating lymphocytes (TILs) for the treatment of melanoma and other solid tumors.
ACT utilizes T-cells harvested from a patient to treat cancer in that patient. TILs, a kind of anti-tumor T-cells that are naturally present in a patient's tumors, are collected from individual patient tumor samples. The TILs are then activated and expanded ex vivo and then infused back into the patient to fight their tumor cells.
ACT using TILs was developed by Dr. Steven Rosenberg, Chief of Surgery at the National Cancer Institute (NCI). Lion has acquired a worldwide, non-exclusive license for various adoptive cell therapy technologies from the NCI, and entered into a Cooperative Research and Development Agreement (CRADA) with the NCI. Pursuant to the agreement, Lion intends to support the in vitro development of improved methods for the generation and selection of TILs, develop approaches for large-scale production of TILs, and conduct clinical trials using these improved methods of generating TILs for the treatment of cancers.
Currently, Lion is also in discussions with the National Institute of Health (NIH) to license additional rights to next generation T-cell technology that may have higher potency, persist over a longer period of time, require fewer cells, and have a lower manufacturing cost.
TILs therapy is presently available as a physician-sponsored investigational therapy for the treatment of metastatic melanoma in the US. Preliminary data in small patient population have demonstrated excellent efficacy and safety profile. Durable response rates have been observed in approximately 50% of metastatic melanoma patients treated with TIL therapy with complete responses of 10%. In addition to melanoma, Lion's TIL technology is potentially applicable to all solid tumors.
The TIL Technology
Adoptive cell therapy using autologous tumor infiltrating lymphocytes (TILs) was first developed in 1980s by Dr. Steven Rosenberg, Chief of Surgery at the National Cancer Institute .
TILs are white blood cells that have left the bloodstream and migrated into a tumor. TILs, when numerous, are considered to be prognostically significant. Therapeutic TILs is a preparation of cells, consisting of autologous tumor infiltrating lymphocytes that are manipulated in vitro and, upon administration in vivo, re-infiltrate the tumor to initiate tumor cell lysis. In vitro, TILs are isolated from tumor tissue and cultured with lymphokines such as interleukin-2. The therapeutic TILs are then infused into the patient, where, after re-infiltration of the tumor, they may induce lysis of tumor cells and tumor regression. The use of therapeutic TILs is considered a form of adoptive immunotherapy.
Patients undergoing TIL therapy must have their tumors surgically resected and then shipped to the company's manufacturing facility, where the TILs are isolated, activated, and expanded to billions in vitro, away from cancer's immune-suppressing effects. These highly activated, potent TILs are then infused back into the patient, who has been preconditioned to remove all suppressive influences. The TILs are infused into the patient with interleukin-2 (IL-2) to stimulate the immune system.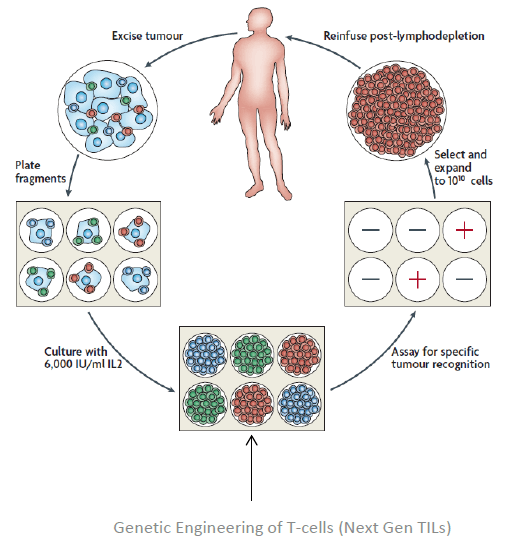 TIL therapy is emerging to be a powerful treatment option for patients with metastatic melanoma. TILs together with high-dose interleukin 2 have been studied in physician sponsored multiple clinical trials in centers across the world. These physician sponsored studies have consistently demonstrated durable clinical response rates near 50% or more.
Studies also have shown that CD8+ T cells are emerging as critical for TIL therapy, although the exact subset of CD8+ T cells exhibiting the highest clinical activity in terms of memory and effector markers is still controversial.
At this point of time, a pivotal Phase II or Phase III trial is needed in an attempt to gain regulatory approval of TILs for the treatment of melanoma. Improvements in manufacturing the therapeutic TILs are also needed to reduce cost and increase efficacy. To improve response rate and duration, surrogate and predictive biomarkers are needed to better select suitable patients for TIL therapy.
We think the outlook for TIL therapy for melanoma is quite bright based on current available data. We estimate that TILs therapy will become an important treatment option for melanoma and other solid tumors in the upcoming years. Furthermore, TIL therapy in combination with conventional therapies, such as with BRAF inhibitors, as well as with Yervoy, may further increase efficacy and durable complete response rates for patients with melanoma.
To read the complete article please click here