At Peter Mac on Thursday 13th December the State Government announced a ban on the commercial ownership and operation of sunbeds across Victoria from December 2014.
Launching the 'Skin cancer prevention framework 2013–2017' in the Jack Brockhoff Lecture Theatre at East Melbourne, the Premier of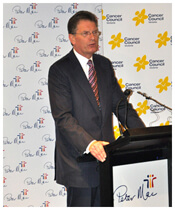 Victoria, The Hon. Ted Ballieu MP, said the ban on commercial tanning units, which emit six times the UV radiation of the midday sun and are responsible for one in six melanomas in young people, will protect Victorians from irreversible and deadly skin damage.
The ban on solaria will take effect from 31 December 2014, in line with bans already announced in New South Wales and South Australia
Further links to this media announcement can be found at:
ABC News – Victoriato ban SunBeds